Chris Wilson - Producer, Lead Designer
Chris graduated from the University of Auckland in 2004, gaining Bachelor of Science (Computer Science, with First Class Honours) and Bachelor of Commerce (Finance) degrees. His work in the field of software security provided the financial liquidity required to cofound and invest in Grinding Gear Games.
Jonathan Rogers - Producer, Lead Programmer
Jonathan is also a graduate of the University of Auckland and obtained a Bachelor of Science degree in Computer Science and Mathematics. His strong interest in graphics programming and other game related areas of computer science were what drove him to enter the game development industry.
Erik Olofsson - Producer, Lead Artist
Erik is an Industrial Design graduate from Sweden who has been involved in various design related projects including an arcade machine, a clothing label, level design for first person shooters and texture/concept art for other purposes. In 2005 he authored and published the book "Design Sketching", which is used as a textbook in many universities around the world.
Brian Weissman - Executive Producer
From mid 1994 to 1999, Brian was among the most recognized and respected professional players of "Magic the Gathering" and he appeared on ESPN 2 to provide play by play commentary for a number of Pro Tour top 8 and World Championships broadcasts. He is an avid computer gamer with experience spanning over 25 years. Brian graduated with a degree in History from UC Davis.
Harry Monga - Programmer
Harry also has a degree in Computer Science from the University of Auckland. He was Grinding Gear Games' first hire and works as a tools programmer maintaining our asset pipeline.
Rhys Abraham - Programmer
Having programmed games as a hobby since intermediate school, Rhys graduated from the University of Otago in 2007 with a 1st-class Honours degree in Computer Science. A long-time gamer, he then moved to Auckland to realize his ambitions and begin a career in the game industry. He currently works implementing the terrain system for the upcoming project at Grinding Gear Games.
Dylan Arnold - Programmer
Dylan finished his Computer Science degree at Auckland University in 2008. He specialises in web development and is currently developing the official website which has a high degree of integration with our upcoming game.
Saveun Man - 3d Artist
Saveun graduated from the Auckland Media Design School in 2008 with a diploma of 3d Animation. He is very interested in the technical side of computer game graphics and is currently working on low poly modelling for our current project. In his free time he enjoys watching BMX Freestyle.
Ari Panzer - Animator
Ari graduated from Auckland's Freelance Animation School in 2005. He has animated on several released titles and can't get enough of making game loops.
Val Nonato - 3d Artist
Val has a Bachelor of Fine Arts degree majoring in Advertising from the Philippines. Has worked as a background painter in an animation studio and later on as graphic designer for an advertising agency. His lifelong dream was to work in the computer game industry so he left home and went to New Zealand to study at the Media Design School. He took up 3d animation and graduated with merit and now he's living the dream at Grinding Gear Games.
Russell Bakewell - Effects Artist
Russell attended the Media Design School in Auckland and obtained a Diploma in 3d Animation and a Diploma in Game Development. He works at Grinding Gear Games as an effects artist.
Mark Knewstubb - Programmer
Mark began programming small games for friends and family to play around the age of 10, a hobby he continued until graduating from the University of Otago with a First Class Honours degree in Computer Science. After graduation he worked on few of his own game programming projects before moving to Auckland to join Grinding Gear Games.
Rory Rackham - Quality Assurance
Rory Rackham is a graduate from Victora University of Wellington's Digital Media Design program in 2009, with a focus on Game Design Theory. He enjoys creating new worlds, finding bugs, making programmers cry, as well as planning elaborate Dungeons and Dragons sessions and watching bad Science Fiction shows.
Joel Schroyen - 3d Artist, Level Designer
Joel became interested in video game level design during high school while playing with the various editors of his favourite games. He graduated from the Wellington Massey University in 2010 with a Bachelor of Visual Communication Design and is now a level designer on Path of Exile.
Thomas Middledorp - Server Administrator
Having spent his early years developing his Linux fu, Thomas traded high school for a job as a systems administrator. He later went on to study at the University of Auckland where he obtained a degree in Computer Science and Biological Science. He currently works as the Grinding Gear Games server guy, inciting general panic whenever he utters the phrase "Uh oh..."
Max Schulz - 2d Artist
Max graduated in early 2011 from Multimedia Berufsbildende Schule (Hannover, Germany) with a degree in Digital Media Design after working 3 years as an artist specialising in 2D, user interface and concept art for a german game developer. He worked on over 10 game projects for various platforms.
He is a passionate gamer and is strongly interested in traditional arts and architecture. He has been helping Grinding Gear Games achieve its artistic vision since August '11.
Chevy McGoram - 3d Artist
Chevy McGoram graduated from Media Design School in Auckland with both a diploma of 3D animation and a graduate diploma of game development. While studying, he freelanced at various VFX studios working on TV commercials. He specialises in high res modeling and texturing and is currently working on Path of Exile as an environment artist.
Carl de Visser - Designer
Carl has been trying to make game worlds out of bits of math and story since he was ten years old. He has degrees in history and strategic studies. He is the co-designer of the board game Endeavor (published by Z-Man Games), which has been translated into five languages and was nominated for several awards. Carl also knows stuff about servers and storage after working as an infrastructure systems engineer for several years. At Grinding Gear Games, Carl is currently working on game balance mechanics.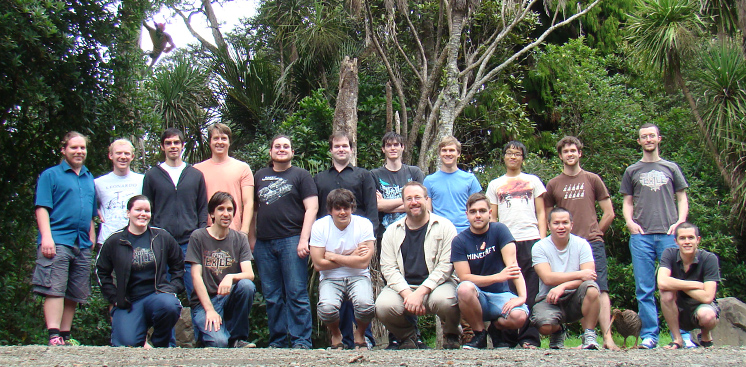 Some members of our development team (April 2012)
Back row: Mark Knewstubb, Rhys Abraham, Harry Monga, Erik Olofsson, Jonathan Rogers, Chris Wilson, Chevy McGoram, Max Schulz, Saveun Man, Joel Schroyen, Thomas Middledorp
Front row: Samantha Wilson, Rory Rackham, Russell Bakewell, Carl de Visser, Andrew Reid, Val Nonato, Dylan Arnold